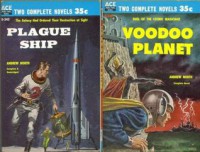 Rating: 3.5* of five
Why not more stars, as this is a sentimental favorite? Because I'm rereading it at closer-to-70-than-4o instead of closer-to-10-than-20. It's dated, of course, but it's still a thumping good read for its wonderful interconnectedness to the other parts of Norton's universe: the Forerunners, the Salariki (a catlike people from Planet Sargol), the gems so bewitchingly described...after all, gems are perfect high-value low-bulk trade goods...the horrible, misery-sowing religious professionals, the Patrol, the finny rockets.
As I'm rereading at a time in life where I've had more and vastly enriching experiences translating ideas from page to screen, or at least trying to, I kept looking for the modern technology to slot into the story. It was surprisingly easy to do. Also surprisingly easy was gaying it up. When the <I>Agatha Christie's Marple</i> adapters showed the way to tart up a fairly drab story, by today's TV standards, was to chuck a gay subplot into it, I was galvanized. Heck fire, most of it was already there already! Like with Dame Agatha's stuff, Grand Master Norton's practically has footnotes saying "re-interpret this passage, 21st century storyteller" and wowee toledo does the Solar Queen (heh) have the goods.
The cover of the edition I'm posting is the one I had as a youth. The Kindle Megapack is more convenient, of course, but I still sigh wistfully at the laughable cover art from an era when we hadn't even been to the Moon yet.
Had I been consulted, I'd've told Reed Hastings' people to skip rebooting <I>Lost in Space</i> (which was a dog in 1966 and is a prettier dog in 2018) and instead *make* an episodic entertainment of the Solar Queen chronicles. Someone should...all the elements are there. The youthful, handsome protagonist Dane leaving school, joining the crew he bonds with, growing as a man and as a trader with lurches forward and swattings backward.
I don't know if modern (under-45) readers would have the patience to mentally update the old tech (space ships with mag-tape computers?!) but I'd say this series is a decent place to test the tepidarium of Papaw's stories.